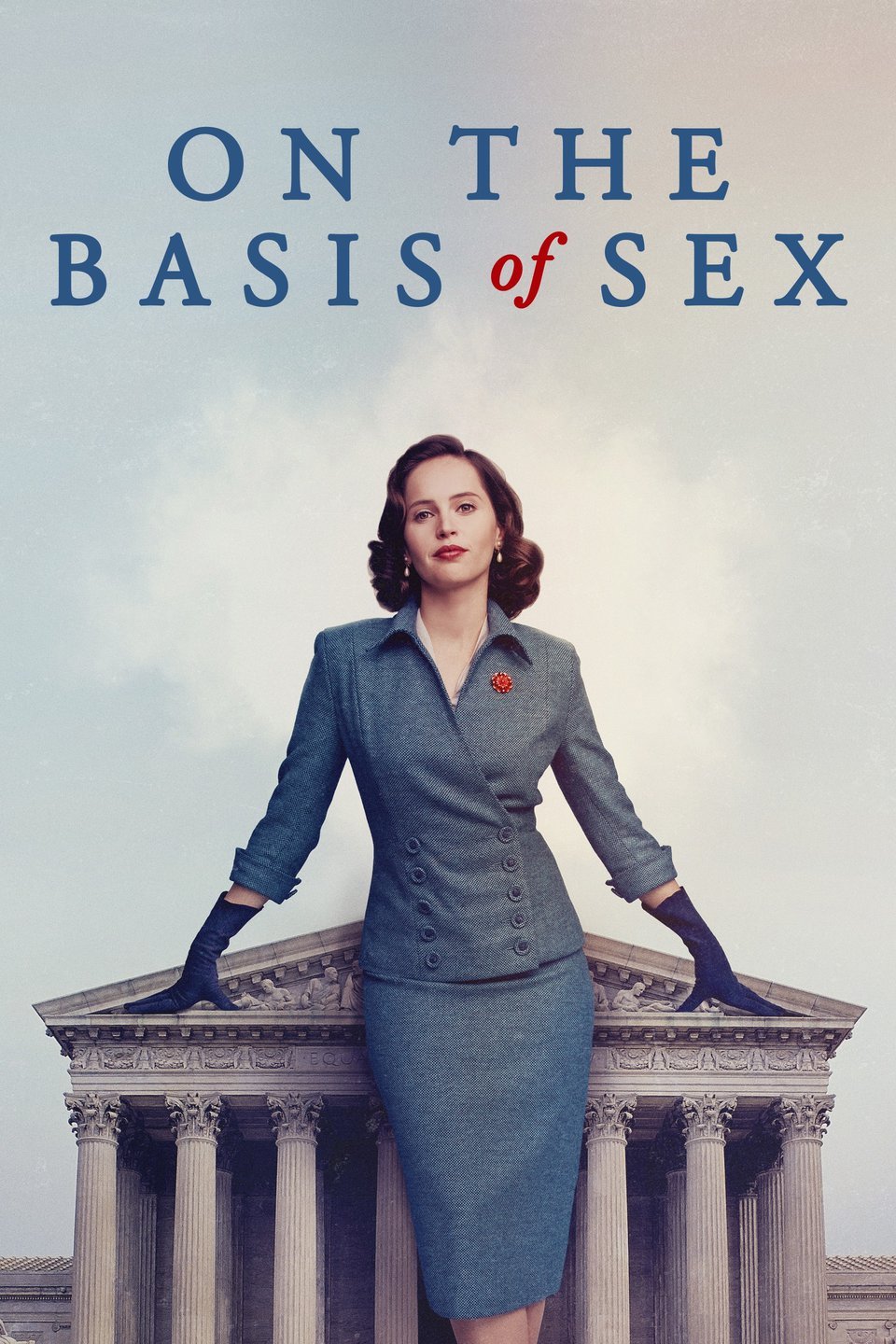 There is no doubt that you will be impressed with the determination and accomplishments of Ruth Bader Ginsburg, played by Felicity Jones, in the new biography On the Basis of Sex. The film opens in 1956 as she is a first-year student at Harvard Law, one of nine women admitted that year. Her husband Martin, played by Armie Hammer, is a second year Harvard Law student and is diagnosed with cancer. How she juggled all the responsibilities of caring for him through his illness, raising a baby, taking her husband's law classes and her own law classes is almost unfathomable. She transfers to Columbia Law School when her husband's new job is in New York. She graduates top of her class but can't find a job as a lawyer and accepts a position as a professor at Rutgers University.
Ruth never gives up her dreams of reaching her potential as a lawyer. When Martin, a brilliant tax attorney, brings her a case about a single man in Denver who is denied a tax credit for a caregiving deduction for his ailing mother, she sees an opportunity. This discrimination of a man can potentially be a way to bring the issues of women's discrimination to light and effect real change. She has to jump through a lot of hoops, including convincing her friend Mel Wulf, played by Justin Theroux, to sign on to the case.
Jones does an excellent job portraying Ruth, from when Ruth does not start off strong arguing her case but later rising to the occasion and convincing the judges to vote in favor of her client. That one simple case was the catalyst to overturning 178 other laws that discriminated on the basis of sex.
My friend Carolyn had seen the 2018 documentary RBG and felt both were excellent, but that this film portrayed Ruth's softer side. We both thought that this inspirational film, which showcased the endearing relationship between Ruth and Marty Ginsburg, was well done by Jones and Hammer. Ruth is a formidable woman who was totally supported and adored by her husband, and he even cooked gourmet meals. His support allowed her to fight for women's equality for herself, her daughter and the future of America, when it wasn't the most popular thing to do.
The timing of these two movies about the life and achievements of Ruth Bader Ginsburg coincide with her 25th anniversary as a Supreme Court Justice. On the Basis of Sex was written by her nephew and Ruth even makes a cameo appearance at the end of the film.  This inspiring story of one of the most influential women in U.S. history is a must see to understand the impact of her steadfast focus on women's equality. I have to say I really like the French title, Une Femme d'Exception, which translates to "An Exceptional Woman." Ruth definitely is that, no matter which side of the political fence you are on.
Movie times: click here
Genre: Drama, Biography
Director:  Mimi Leder
Written By:  Daniel Steipleman
Actors:  Felicity Jones, Armie Hammer, Justin Theroux, Kathy Bates, Sam Waterston
Running Time: 120 minutes
Rating:  PG-13 (for some language and suggestive content)
Get breaking Coronado news in your inbox
>>
SUBSCRIBE