What is KCMS and who participates?
KCMS is Coronado Middle School's very own student-run news program that provides CMS students and faculty with campus-related news and information. The KCMS program was first implemented eleven years ago but ran only for a few years. This year, KCMS is back with more force than ever.
The program is taught by Amy Steward, who oversees the broadcast and writes the daily script. Amy was a fifth-grade teacher at Village Elementary until last year, and now teaches KCMS, tech wheel, Coronado careers opportunity (CoCO), yearbook, and digital media classes at CMS. KCMS is offered as a leadership class, but is quite exclusive and not just anyone is admitted – to be considered, students must submit an application and essay, create a video and/or script, and be recommended by teachers. Interviews for applicants may take place in the future as well. The class currently has 27 students and meets thirty minutes before first period every school day.
Amy in the studio
What is a daily KCMS news broadcast like?
The daily KCMS news segment is simulcast live throughout the school for students and teachers to watch during homeroom. Each show begins with the Pledge of Allegiance and is followed by a 4-5 minute news segment that provides campus-related information. Amy also explains that local community news is becoming incorporated more frequently, and that she hopes to regularly include a "world issue" segment in the future. They also aim to have one or two guests (like the school's counselors or other students) per day.
And KCMS is no simple operation – like any news program you might watch on TV, KCMS has news anchors, cameramen, various directors, and people in charge of audio, teleprompting, and the like. The studio itself boasts a green screen, three high-quality cameras, teleprompter, a testing room (pictured below), and massive light fixtures overhead. The students also have matching "KCMS"-emblazoned polo shirts, which each member wears proudly on and off camera. Amy assures me that the students work from the minute they get to class until first period's bell rings. The students get going immediately when they arrive, get the cameras and equipment rolling, receive and peruse scripts, and thoroughly prepare before going live.
Getting technical behind the scenes
What do the students think about KCMS?
KCMS member Zach Allen says, "I enjoy being able to produce the live broadcast every day at the school. I love all the changes that have been made to make it more professional. I love producing news packages so we can deliver the news to our students."
Another member, Holden Hollenbeck, includes, "I love all parts about KCMS. I love having a daily live broadcast and airing news packages we produce ourselves."
Amy explains that the students take KCMS and their on-screen roles very seriously, as the live broadcast allows little room for error. Though the students are only seventh and eighth graders, Amy tells me that they are a very professional group, and many have even started to consider broadcast journalism as a career path.
Where can non-CMS students view the KCMS news footage?
Though there is currently no KCMS footage on the web, they have just begun to archive the episodes. They'll be posting their filmed news segments to their YouTube channel in the near future, so anyone can access the footage and stay updated with CMS news. KCMS is even becoming more involved with eCoronado and will be posting videos here, so stay tuned!
Check out the clip of the KCMS "staff" hard at work and more studio photos below: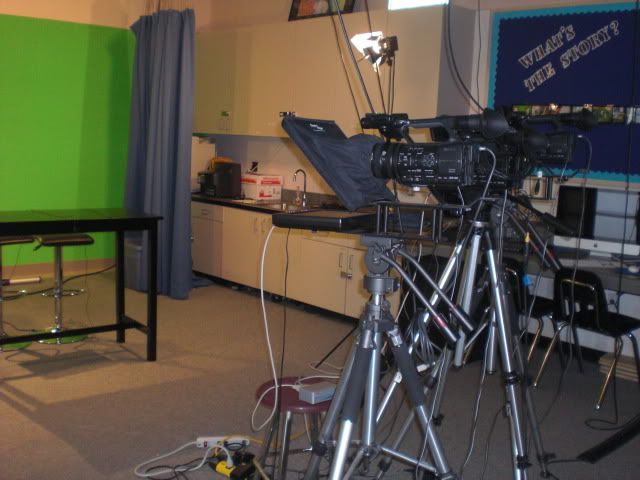 Have an interesting story or newsworthy event you'd like to see on eCoronado.com? Contact me at mdwailee@gmail.com