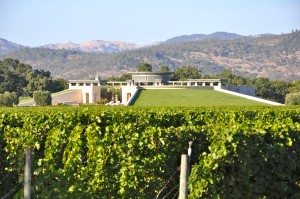 I've taken a few trips to Napa in the last year and just can't get them off my mind. I thought sharing with my lovely blog readers was a must – specifically my last trip because it stands out as one of the best. That could be because my wonderful husband was accompanying me for the first time on this one. We stayed 2 nights and 3 days. We made sure to catch an early morning flight on Friday and an evening flight back home on Sunday. We live in San Diego so can easily fly "Virgin America" which is a great experience in and of itself (think decked out disco limo in the sky / technology mecca).
We stayed at "The Cottages of Napa Valley" (www.napacottages.com) and had our very own cute little cozy cottage. It was like having a mini house minus all the responsibilities! The bed was big and plush, the bathroom had a large shower, double sink (actually it was one very long sink), jacuzzi tub and heated floors. The cottage included both regular and french press coffee options as well as tea (a treat for me since I'm a tea drinker), a lovely bottle of wine as a welcome, and a couple little "wet bar" type snacks that were on the house! All that is amazing enough but the best feature happened every morning when a basket of delicious, fresh baked pastries, orange juice and a newspaper magically appeared on our doorstep! LOVE that!!!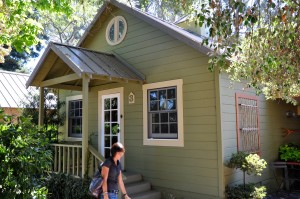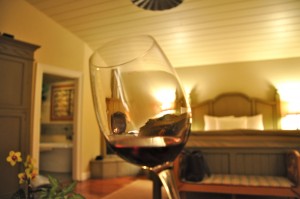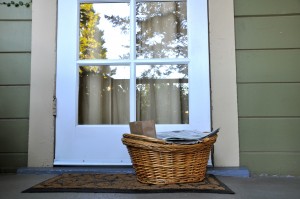 Our first night in town we ate at "Bottega" (www.botteganapavalley.com). This is acclaimed chef Michael Chiarella's famous restaurant in the heart of Yountville and yes, he was actually in the kitchen cooking that evening. The food was just exquisite. This was my second visit and I'm convinced everything on the menu is spectacular! The first time there I drank the "Roux Old Vine Petit Sirah." It was what made me get on my new crusade of loving Petit Sirah! This wine is so good that my husband and I ordered it again for our romantic dinner.
On Saturday we decided to drive up to Calistoga and work our way back down to Napa so we could visit all the AVA's that were of interest to us. St. Helena and Yountville came out on top as our favorites although I hesitate to say that because they all were quaint in their own right. In St. Helena we HAD to stop in the Clif Family Winery's "Velo Vino" tasting room (www.cliffamilywinery.com/velo_vino.cfm) because my husband is an avid bicyclist and just had to see what it was all about. You may have already guessed it….these are the guys who make "Clif Bars." I have to say it was a pleasant experience for me as well. The staff was very friendly in the midst of them juggling shuttles for their "Members Party" and made sure we were taken care of. In fact, they even suggested our lunch stop. Almost across the street from "Velo Vino" is "Farmstead Restaurant" (www.longmeadowranch.com/Farmstead-Restaurant) part of Long Meadow Ranch. The food was amazing! I was pretty full by this point from all the great eating we had done since getting off the plane so I decided to order a couple appetizers. Part of my sampling was the "Meatballs with caramelized root vegetables and tomato marmalade." There was so much flavor going on with this dish it just blew me away – even with a full tummy. In fact I was so impressed with this dish that for the first time in my 17 years as subscriber to Bon Appetit magazine I wrote their "RSVP" section to request the recipe! I'm still waiting to see if they are smart enough to get it for all of us to try at home! 😉 Shockingly I ordered no wine but sipped my husband's delicious glass of Stony Hill Chardonnay.
By this point we had eaten and drank our way through the beautiful Napa Valley and couldn't imagine having a huge dinner that evening so we came up with the great plan for our evening meal. We went to "Oakville Grocery" (www.oakvillegrocery.com) for a simple meat and cheese board to go with wine we had waiting for us in our cute little cottage. We saw an advertisement for "Oakville Grocery" while getting a quick bite to eat at the airport after landing. Let me just take a quick detour to tell you about our airport eating. We stopped at Tyler Florence's take-out version of his "Rotisserie & Wine" restaurant – again amazing! I had this garbanzo bean, fennel, chorizo gratin that I still crave!. Ok back to my original point – "Oakville Grocery" sits at the corner of Oakville Crossroad and Hwy 29 and has been in business since 1881. It is a must stop for tourists and locals alike. We were in heaven at this little shop filled with everything yummy. We bought meats, cheeses, quince pate, etc. We arrived back in our cottage exhausted so put on our comfy robes, kicked on the fireplace and enjoyed our homemade "fromage & charcuterie" board and wine.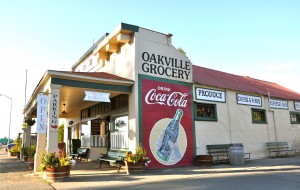 I've given you plenty of great reasons for your own perfect quick trip. Everyone can find 2 nights to sneak away at some point and this is a great place to do it! No excuses! ENJOY!
A few other noteworthy places I visited on previous trips:
Mustards Grill – executive chef & owner Cindy Pawlcyn (www.mustardsgrill.com)
Morimoto – executive chef and owner Masaharu Morimoto of Food Networks "Iron Chef" (www.morimotonapa.com)
Boon Fly – part of the "Caneros Inn" and "Plumpjack Resorts" (www.theboonflycafe.com). This place is off the hook for breakfast!
visit my website: www.deepredcellar.com